Media for inkjet printers
Lomond Transfer series include inkjet coated materials of different base and properties all aiming at in-home individual creativity.
Heat transfer papers for T-shirts and caps, temporary tattoos for skin and nails and magnetic stickers for any metal surfaces are ready to actualize any of user's fancies and thus decorate his/her every day life with various unique details. Moreover, as all this inkjet materials are very easy in use the individualized accessories can be changed weekly, daily or even hourly depending only on the mood of the moment.
Lomond inkjet transfer media are supplied in A4 and A3 sizes.
Lomond Transfer paper is designed for transferring inkjet printed colorful images onto T-shirts, caps or any other cotton fabrics. It is made in three versions: for white or light colored cloth, for black and dark colored cloth and for luminous (fluorescent) applications on dark cloth. The coating is suitable for both dye-based and pigment inks providing high resolution. To apply printed images onto the cloth a thermo press or usual home iron can be used. Being transferred onto cloth the picture withstands up to 20 washings.
more information - Transfer paper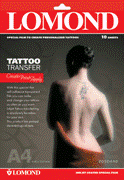 Lomond Tattoo is specially designed to create personal temporary removable skin tattoos. Intrinsically this is a very thin sticky inkjet film on paper backing. Images can be printed at 720 dpi with good color reproduction and sharpness. Being applied on the skin these "body art labels" are waterproof and may last for several days. Any time the "tattoos" might be washed out with warm water and soap. The Tattoo film also might be used for nail decoration. The material has been tested by dermatologists, and it is suited for normal sensitivity skin. The Tattoo is not recommended to wear more than two days.
more information - Tattoo paper
Lomond Magnetic is an inkjet coated synthetic paper impregnated with containing magnetic crumbs. The coating provides high resolution photo quality imaging. Lomond Magnetic is used for making magnetic stickers which might be attached onto various metal surfaces: presentation boards, refrigerators, cars, computers, entrance metal doors, and so on. Magnetic Stickers are used in the warehouses for marking cargoes as well as in the buildings and offices for hanging out various notices, warnings etc. The image is fully water-resistant. It is recommended for outdoor applications.
more information - Magnetic paper
Share on Facebook