CLC paper Fine Art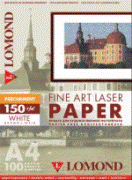 Lomond presents a brand new paper – Laser Parchment. Available in 5 colors: yellow, sand, silver, blue and white, it is cut into A4 format and packed 100 sheets in a box. Parchment is a double sided matt paper with a special texture. It can be used for various design works. This paper has an extremely good toner adhesion.
more information - CLC paper Perchament
Glossy paper intended for art photo printing. Metallic collection is suitable for various design works, gift cars, business cards, book covers, company blanks, posters and brochures.
more information - CLC paper Metallic
Share on Facebook